Come one, come all!
Today we're announcing our new LP by The World. The World are five people from Oakland, California who write boisterous dance music with a post punk tool kit and an insightful yet short attention span.
Their songs typically clock in around two minutes long and are a wild head-rush of Amber Sermeno's funk-minded bass lines and shuddering dubbed-out guitar courtesy of Andy Jordan. Amber also sings alongside Elyse Schrock, who anchors their propulsive songs with some supremely robust drumming.

The steady beat is bolstered by Stanley Martinez's flurrying saxophone melodies and Alexa Pantalone's expansive bongo rhythms. Alexa also plays sax on half of the songs too, contributing further to the complex interplay of instruments that make The World's music so immediate, compelling and groove conscious.
The good people of Raven Sings The Blues have just premiered the first new song from the band entitled 'Hot Shopper', choosing to describe it as "
a spring-loaded knuckle-popper full of rubber band bass and staccato horn stabs that bring to mind Maximum Joy and A Certain Ratio.
" 'Hot Shopper' is the opening anthem from the band's debut album 'First World Record', out October 9
th
through Upset The Rhythm. Available now to
pre-order
now on transparent 180g vinyl, listen up and listen loud!
In terms of Upset The Rhythm concerts we have a few weeks off until we resurface on October 9th at Tufnell Park's Dome for a fantastic evening in the company of Shannon And The Clams and TV Crime.

Look out below for everything you need to know and more. Our complete program of upcoming shows are outlined at the end of this message also.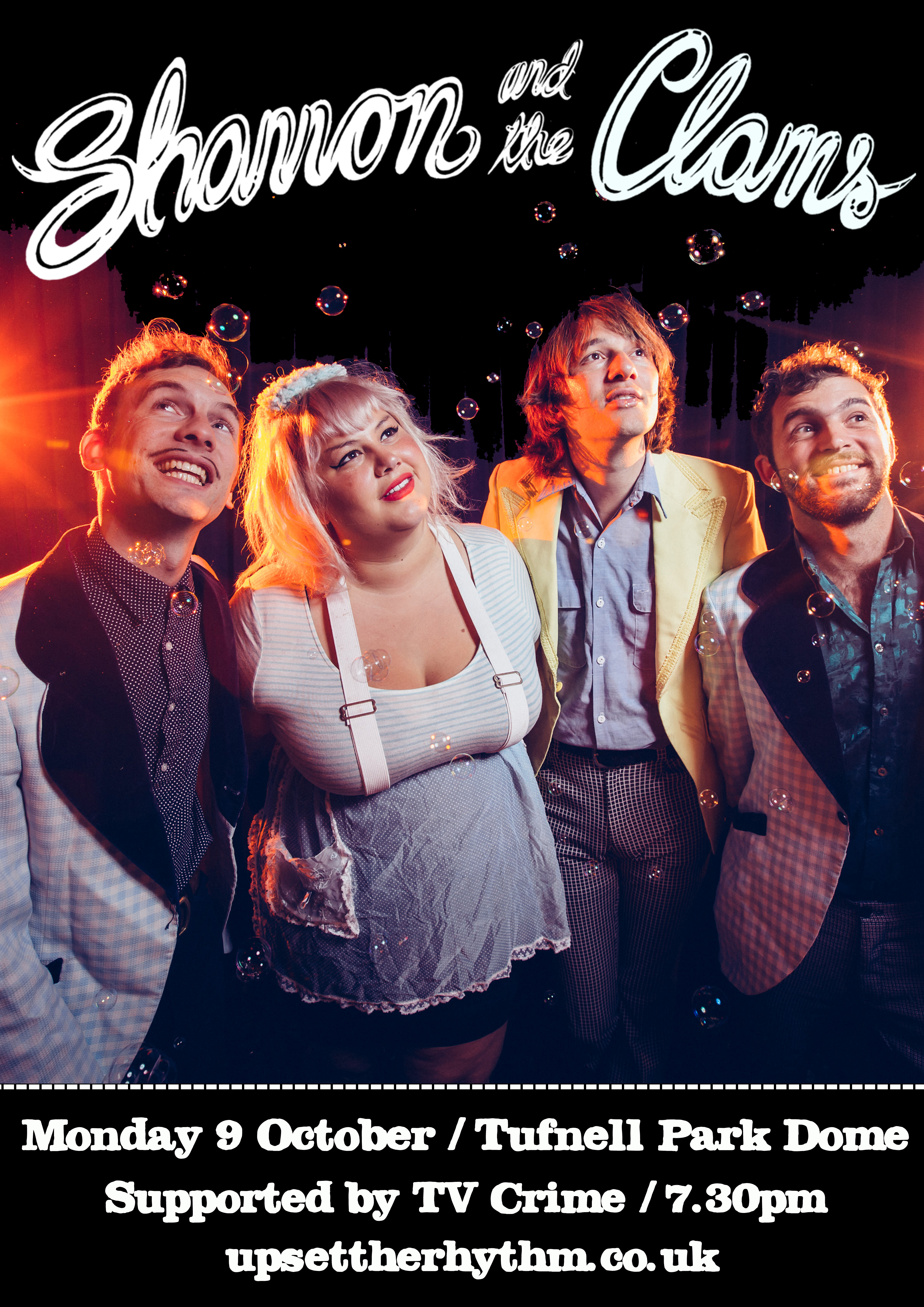 Upset The Rhythm presents...
SHANNON AND THE CLAMS
TV CRIME
Monday 9 October
Tufnell Park Dome, 178 Junction Road, Tufnell Park, London, N19 5QQ
SHANNON & THE CLAMS are from Oakland, California and comprise of Shannon Shaw (vocals, bass), Cody Blanchard (vocals, guitar), and Ian Amberson (drums, vocals). Sounding like a prom band from 1964 getting dosed with acid and having the sweetest lovelorn freak out, Shannon And The Clams defy expectations. Imagine a brawling Etta James, backed up by the 13th Floor Elevators singing Shangri La's tunes. Shannon has a voice that can go from a sweet girl group croon to a bluesy ballsy growl before you realize you're headed for the (dance) floor. It's total punk rock bop, brimming with doo-wop glory delivered to your door by the Homecoming Queen and Kings of weirdo rock 'n' roll. What started as an open mic project for a shy, young Shannon to try out some tunes ended with the Clams meeting and forming a band. Many have said to have been possessed by thee (eerily similar at times) haunted howls and beautiful growls of their two lead vocalists, hypnotized by their heavy heartbeats, and mesmerized by their magical music. Your ears may become infested with a real Buddy Holly jolly kinda joy (oh boy) while you stutter along to a hiccupy song. Take a scratch and a sniff at these stickers and get bit by their bad-brained snarls. It's always Christmas (if you want it). It's your party time, and it's excellent. Cry-yi-yi if you want to, but be sure to surf a splish-splash with a laugh later. Recent album, 'Gone by the Dawn' (Hardly Art) is monumental; immense, magnificent, and unforgettable. Shannon and the Clams have pioneered their way into a lonesome land where the past still lives in the long shadows of a hot afternoon, where whispering spirits follow high along canyon walls, and if you sink your fingers into the dusty hard-packed earth you pull out hands smeared with blood.

TV CRIME are a new garage punk / power pop band from Nottingham who come fully formed. Their debut single 'Hooligans' (out of Satic Shock) is a total stomper of a power pop song that starts like a classic Good Vibrations Records 7" with The Moondogs-esque guitar work and the energy of 90's legends New Bomb Turks or Gaunt. Flip 'Wild One' is another pounder but with a more rock 'n' roll twist.
https://tvcrime.bandcamp.com/
Thank you for your time and support!
Upset The Rhythm
x
UPSET THE RHYTHM
UPCOMING SHOWS
SHANNON AND THE CLAMS
TV CRIME
Monday 9 October
Tufnell Park Dome, 178 Junction Road, Tufnell Park, London, N19 5QQ
PRIESTS
DOWNTOWN BOYS
BIG JOANIE
Wednesday 18 October
Tufnell Park Dome, 178 Junction Road, Tufnell Park, London, N19 5QQ
7.30pm | £12 |
TICKETS
CARLA DAL FORNO
PROTECTIVE SPELLS
Tuesday 24 October
The Shacklewell Arms, 71 Shacklewell Lane, London, E8 2EB
JOHN MAUS
THE WORLD
GARY WAR
Friday 27 October
Tufnell Park Dome, 178 Junction Road, Tufnell Park, London, N19 5QQ
7.30pm | £12 | SOLD OUT
SHOPPING
GAUCHE
THE WORLD
Friday 10 November
Kamio, 3 Rivington Street , London, EC2A 3JL
8pm - 2am | £9 |
TICKETS
MOUNT EERIE

Monday 13 November
Tuesday 14 November
St John on Bethnal Green
200 Cambridge Heath Rd, Bethnal Green, London, E2 9PA
7.30pm | £15 |
TICKETS
PROTOMARTYR
SAUNA YOUTH
BOMBER JACKETS

Tuesday 14 November
Tufnell Park Dome, 178 Junction Road, Tufnell Park, London, N19 5QQ
7.30pm | £12 |
TICKETS
FUTURE ISLANDS
Monday 20 November - SOLD OUT
Tuesday 21 November - SOLD OUT
In collaboration with Parallel Lines
O2 Academy Brixton, 211 Stockwell Rd, Brixton, London SW9 9SL
ROY MONTGOMERY
ALEXANDER TUCKER
Thursday 23 November
In collaboration with Café OTO
Cafe OTO, 22 Ashwin Street, Dalston, London, E8 3DL
7.30pm | £10 |
TICKETS
RICHARD DAWSON
(Live band show)
Wednesday 20 December
Islington Assembly Hall, Upper Street, Islington, London, N1 2UD
7pm | £15 |
TICKETS